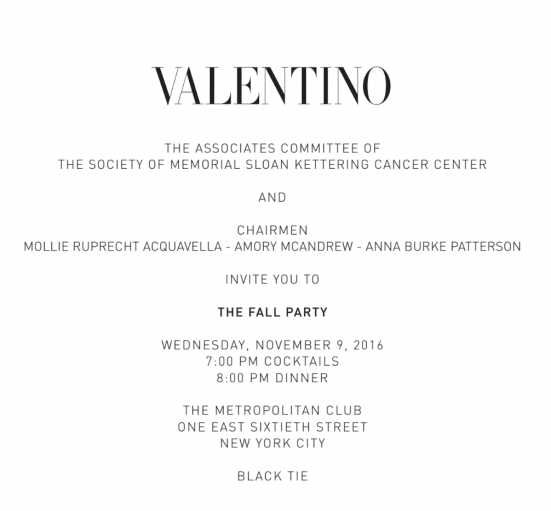 An evening of enchantment!  
The Annual Fall Party
hosted by The Associates Committee of 
The Society of MSKCC  
is
the place to see and be seen on 
Wednesday, November 9
for Next Jet Set. 
This year it is 
t
aking place at the glamorous 
The Metropolitan Club 
in Manhattan, the Fall Party will begin with cocktails followed by a dinner and dancing.  
The stunning event, generously sponsored by 
VALENTINO 
and co-chaired by 
Mollie Ruprecht Acquavella, Amory McAndrew 
and
 Anna Burke Patterson,
 will benefit the Department of Pediatrics at Memorial Sloan Kettering Cancer Center.   For information, please contact Charlotte Reardon at
The Society of MSK
, 
reardonc@mskcc.org or  212.639.2103
To wear long or short – that is the question!  It is a query that we often receive with regard to Black Tie or Formal Attire.  Since the crowd is young, fun and fabulous, we found the answer in this divine duo of VALENTINO frocks.  They speak "party" in the most wonderful way.  Continuing the VALENTINO style, we chose a whimsical feather headband introducing a deep burgundy, one of the trends for fall.  The we carried the shade into an Eddie Borgo Clutch and Oscar de la Rental Crystal Earrings.  Slip on some wicked slippers and you are ready to rock the night away.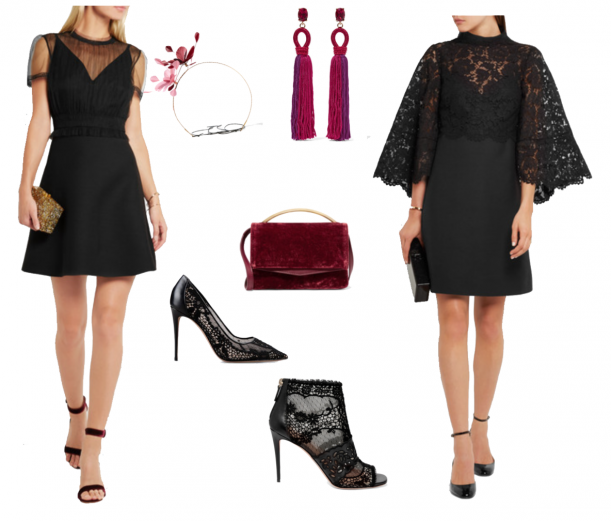 VALENTINO Tulle Crepe Mini Dress $4390  /  VALENTINO Lace Mini Dress $4990
VALENTINO Feather Headpiece $1045  /  Valentino Lazer Cut Lace Booties $1395  /  Valentino Lace Pump $995
Oscar de la Renta Swarovski Crystal Tassels $425  /  Eddie Borgo Burgundy Clutch $990
To See Photos From Past Years, Go To New York Social Diary