What could be more exciting that the backdrop of the glorious Hamptons and ArtHamptons firmly in the foreground this week?  The Art Worldconverges with  70+ national and international galleries, 5,000 contemporary works of art from 400 artists.  This  "boutique" show feature prominent galleries offering the finest in Post War to Contemporary Art.   The Opening Preview Party will benefit Guild Hall but if you miss it the show will be open all weekend long with a fabulous schedule of events.   For tickets and complete information, please go to ArtHamptons.
For what to wear to an arty party, we relied on  Nicole Miller for her cool girl vibe.  Black and white is all the rage this summer and we are loving the fresh visual contrast.  The Inkblot Prints is a sophisticated looks and the easy fit is extremely flattering.  These two will transition to the city, to work, and out for the night.   The Ikat is a native natural for summer, whether to a drinks party or paired it with a hat for the perfect look for Sunday's Art Polo, sponsored by Beach, Modern Luxury.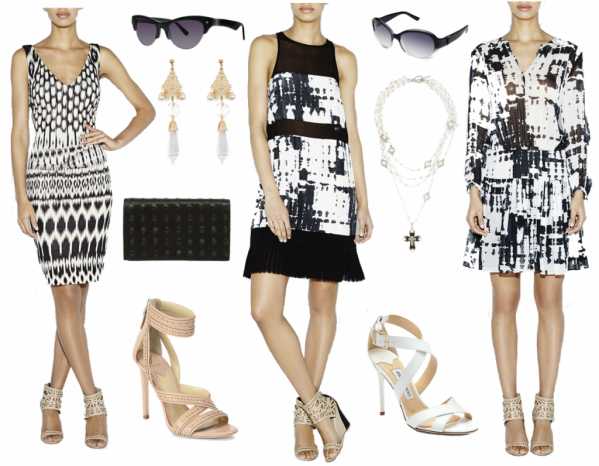 For information and to purchase, please click on the links:  Kenna Temple Ikat Dress $320.  /  Mika Inkblot Dress $320.  / Wylie Inkblot Dress $395  /  Small Studded Clutch $180.  /  Vessey Sunglasses $119. SALE / Madison Sunglasses $137. ON SALE  /  Crystal Chandileer Earrings  $189.  / Magdalena Necklace  $222.  /  Brian Atwood Leather Sandals $375.  /  Jimmy Choo Patent Leather Sandals $695.  /  
A very special VIP Polo experience on Sunday presented by Beach. 

Wonderful Opportunities for Meeting the Artists.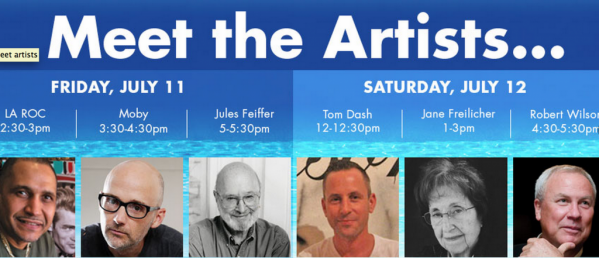 Don't miss the Sculpture Garden.