We were thrilled to videotape a segment on the subject of Animal Prints for NBC's New York Live (formerly LX NY).   It is one of our favorite afternoon shows, yes we admit to sneaking off to catch a glimpse of Jane Hanson and Sara Gore – they are two of the best-dressed girls on TV – see for yourself at What Our Hosts are Wearing.  Big thanks to Vensette, New York for the great hair and make-up.  Look for an upcoming feature on this amazing at-home service.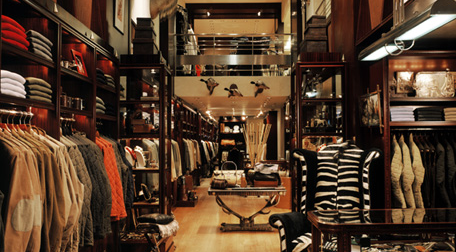 What could be a more natural habitat to tame the fashion beasts, than the legendary Beretta Gallery on Madison Avenue, a three-story exotic oasis for sportsmen and women who are passionate about nature and the outdoors.  For over four centures this family has produced firearms and sporting equipment of the highest standards of quality.  They stock a wonderfully curated collection of apparel for both men and women, in the field and on the street.  Stalk the gallery now, so alive with the vibrant colors and patterns of the season – it could be one of the few places where your husband won't complain.
We are showing how to accessorize your wardrobe with Animal Prints, one of the most versatile trends for fall.   We chose to highlight the Leopard Print for its soft shades that blends so well with fall neutrals like tan and camel and goes so well with black.  It can also become a complimentary neutral itself when  paired with a seasonal pop of color such as pumpkin, persimmon, crimson, and violet.
For daytime, we like a pair of flats and a big roomy tote.  Are animals too wild for the office?   Try a printed sheath, tamed by a black cardigan, tights and shoes.  Want something to 'throw and go'?  Milly's full length coat – so chic, if Audrey were alive she would be in it.  And for the evenings we love the Rebecca Taylor 'Dinner Top' soft and sexy, paired with black knit pants and pumps, you will have your tiger purring!
Hunting our faves at Net-a-Porter

Left to Right : Michael Kors Animal-print Silk Blouse ($175), DKNY Leopard-print Calf Hair Shoulder Bag ($225), Hunter Regent Montpelier Wellington Boots ($340),Elizabet And James Leopard-print Faux Pencil Skirt ($395), Rebecca Taylor Fairy Tale Leopard-print Silk Blouse ($275)
Stalking J. Crew Accessories!

Left to Right: Pia Calf Hair Pumps ($358), Edie Purse in Italian Calf Hair ($448), Wide Calf Hair Belt ($80), Darby Calf Hair Loafers ($275),  Albertus Swanepoel for J. Crew Fedora ($178)
So feline and chicly Milly!

Left to Right: Mini Sophia Hair Calf Bag ($265),  Leopard Print Riley Cardigan ($280), Penelope Hair Calf Large Clutch ($345), Sherri Gathered Top ($325), Belted Bianca Coat ($695)
Totally Tory wild shoes and bags!
Left to Right: Tory Burch Leopard City Messenger Bag ($ 425), Celinah High Heel ($25), Kendrick Haircalf Driver ($295), Patricia Leopard Bootie ($425), Leopard City Zip Tote ($695)
Michael Kors roars!

Left to Right: Michael Kors Leopard-Print Rabbit Vest ($450),  Michael Kors Medium Saddle Messenger ($328), Michael Kors Leopard-Print Infinity Scarf ($50), Michael Kors Vall Leopard-Print Wedge ($225), Michael Kors Leopard-Print Jersey Dress ($144)