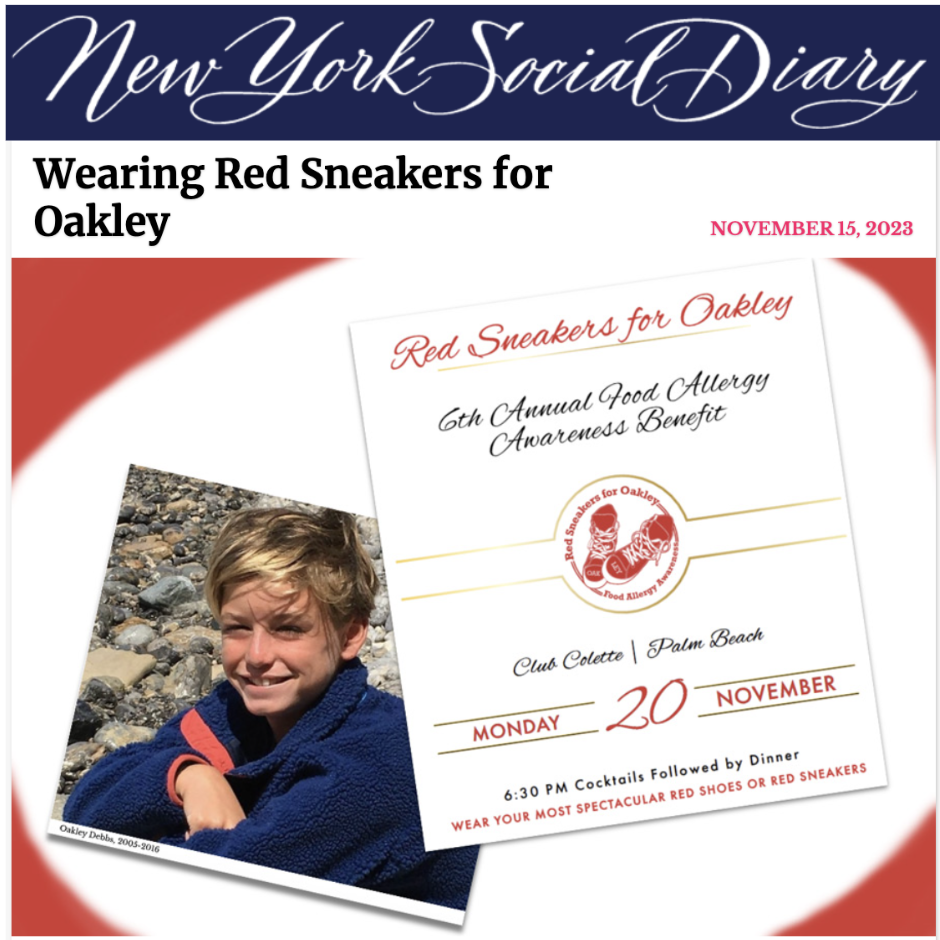 GUEST DIARY• BY: KAREN KLOPP AND HILARY DICK
Lace up your sneakers or slip into your stilettos in support of Red Sneakers for Oakley's Annual Food Allergy Awareness Benefit, which returns for its 6th year at Club Colette in Palm Beach on November 20th, 2023. The atmosphere is a festive one as the red-decked dining room fills with friends and supporters. The crowd is energized by the cause created so close to home as paddles are raised and with great enthusiasm.
---
---
In November 2016, Oakley Debbs passed away suddenly after consuming a piece of cake containing an unknown nut substance. In the years since, The Debbs' family, Merrill, Bobby & Olivia, has turned pain into positive action by becoming trailblazers of food allergy awareness and education and helping those affected by food allergy navigate everyday life and stay safe from anaphylactic encounters. The proceeds from the benefit fund this essential mission.
---
---
---
Oakley's favorite pair of shoes, the red sneakers his mother gave him as an early holiday present, became a powerful symbol when the Debbs' family created their nonprofit. Red is a vibrant color represented by a range of emotions — on one side one senses danger, heat and anger, while on the other, passion, courage and love.
---
---
In our What to Wear to his heartfelt and heart-filled event, we chose the latter. To us, red is a symbol of the love and guidance RSFO has shared with so many and the passion and courage of its founders. In our collection, you will find something for every age and shape from a short and sassy strapless to a dramatic satin midi — and all ready for now and the upcoming season of endless celebrations and good causes.
---
---
Hilary puts her own spin on the shade. "If wearing a red dress is not your thing, there are plenty of red accessories to compliment your attire. Along with red shoes, there are socks, bags, bows and jewelry that show your spirit for the cause. Red is actually very IN fashion this year, so whatever your choose you will be chicly turned out!"
---
---
Red Sneakers for Oakley has reached millions of people through their RSFO Days program, their digital media program and The International Red Sneakers Day on May 20th of every year. Merrill Debbs describes her resolve: "Our goal is that no family experiences the excruciating loss of a loved one due to lack of knowledge of anaphylaxis. Each time a family thanks us for saving their child or helping to educate them, we know that we're doing important work."
---
---
You can read all of the testimonials on Red Sneakers for Oakley.
---
---
Photos courtesy of Capehart Photography, Palm Beach.
---
Hilary Dick and Karen Klopp of What2WearWhere.com take the guesswork out of dressing, the legwork out of shopping, and the panic out of packing.©