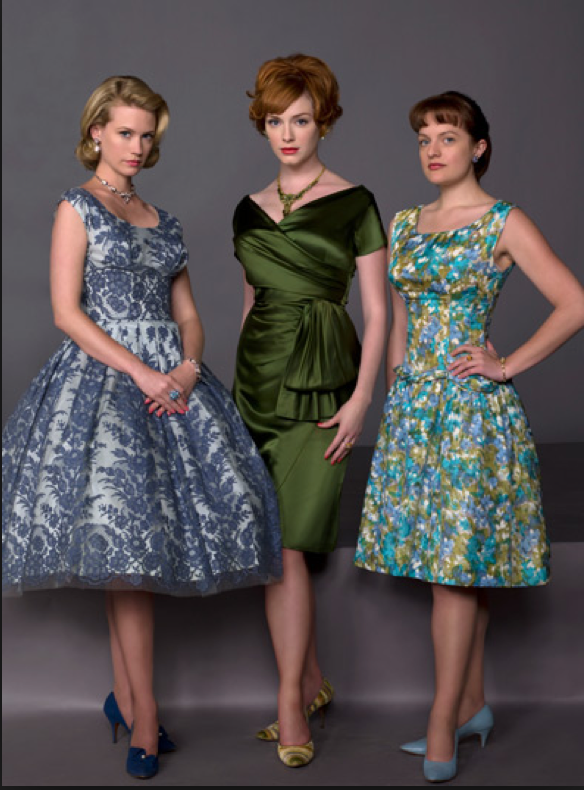 We received a request from a festive friend,   
"I am looking for a 1950's Country Club Party, à la Mad Men.  Can you help me?"
   Say no more, we are at your service, as obsessed fans of the show and the fashion of the 50's.  We dashed to 
Saks
 to find the perfect fifty's party frocks.  It was a time when women dressed fetchingly feminine in fitted bodice and full skirts.  The look was chic and proper with a hint of naughtiness, just smoldering beneath the surface.
This brocade in reverse pattern dress is absolutely stunning and perfectly pink for a Country Club themed party.   Take advantage of the SALE price.  It might need to be altered.    The underskirt should be TIGHT and the bodice snugly fitted to your shape.  Yes, you could add a padded bra, for added curves or a little pointy to replicate the undergarments of the past.   To accessorize, we added some killer white pumps, a bit of lady-like bling in the jewelry, seductive long white gloves and a party-perfect, purse.  Have a little come-hither fun with the saucy language of gloves.  See below.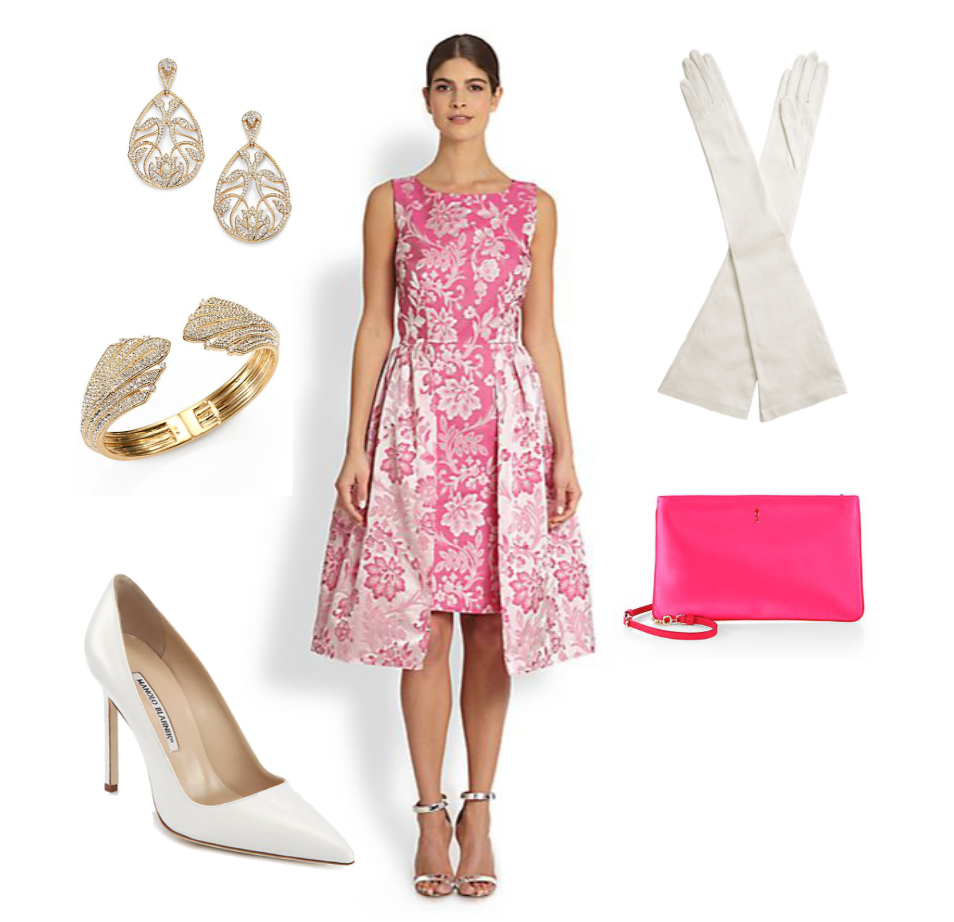 While purusing the racks at SAKS, we found these other beauties.
Be a Peach

Moonlit Blues
In the Victorian era, it was not exactly proper, as you might imagine, for a lady just to walk up to a gentleman and tell him that she'd like to get to know him better! "Flirtation codes" were developed using a wide variety of objects. The "fan code" is the best-known, but gloves were also used as flirtation signals. Here are some of the better-known glove signals:
Twirling one's gloves around her fingers – We are being watched
Holding the tips of the gloves downward – I wish to be acquainted
Gently smoothing the gloves – I wish I were with you; I would like to talk with you
Striking one's gloves over her hands – I am displeased
Tossing one's gloves up gently – I am engaged
Tapping one's chin with her gloves – I love another
Dropping one of her gloves – Yes
Dropping both gloves – I love you
Turning the wrong side of one's gloves outward – I hate you