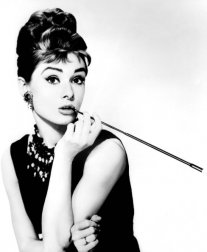 Okay my young darlings.  It is that time of year again, KK's 10 Tips for Holiday Office Parties. Ignore at your own risk!   To answer the much asked question How to Dress for an Office Party?   we channelled our inner Holly Golightly to come up with a stunning collection from Halsbrook.   By the way, did you know you can take items on approval and only pay for what you keep?  Brilliant idea.   We were impressed with this stunning array of choices, each says, "I am am a lady, but I am fun!"   We are feeling the LBD Little Black Dress this Holiday Season and each of these festive frocks is a flattering feminine statement, without going to far.  A pair of festive earrings, and a fabulously perfect pair of Jimmy Choo Suede Pumps are all you need to complete you AH look.   Want to go all the way to a French Twist?  I watched several YouTube videos before recommending this one.  It seemed to give a beautiful lift to the crown and great sweeping sides.  Watch the video How to do a French Twist.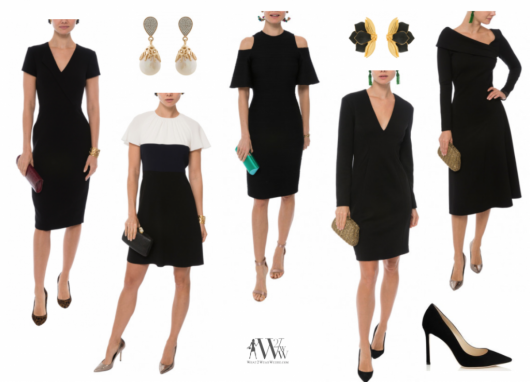 left to right:  LK Bennett Stretch Pencil Dress $395  /  Paula Ka Crepe Flutter Sleeve Dress $665  / Shoshanna Open Shoulder Knit Dress $418   /  Elle Tahari Black V Neck Dress $278  / LK Bennett Angled Neck Black Dress  $398  /  earrings:  Atelier Mon Pearl Drops $95  /  Oscar de la Renta Bold Petal Clips $235  /  shoes:  Jimmy Choo Romy 100 $595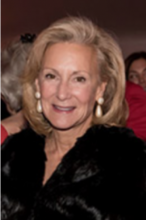 KK's DOs AND DON'Ts FOR A COMPANY PARTY
#1 DO:  Dress modestly.  Nothing low cut, too short or too tight – no matter what others are wearing.   Save your sexy dress for a night out with friends.   DON'T: Show an abundance of décolleté.  It is distracting and sends the wrong kind of message.
#2 DO: Dress festively.   Fun sparkling earrings, some rhinestone brooches and a big crystal cuff, high heels and black patterned stockings are also a fun way to make an outfit special. DON'T: Overdo it.
#3 DO: Set up a strategy in advance.  Is there someone in the company that could help your career?   Remember this is an opportunity to socialize with some higher-ups.  Do some research so you will have something intelligent to talk about.  DON'T: Be obviously sucking up to the bosses.
#4  Speaking of bosses, DO: Be on time.  The mucky mucks tend to arrive on time and and leave early.  DON'T: Be the last one to leave the party.
#5 DO: Be social. Go out of your way to mingle with some new co-workers and try to speak to everyone. DON'T: Flirt – everyone is watching.  If you are interested in a co-worker make other opportunities to get to know each other – no making out in the corner – trust me.
#6  Speaking of social . . . DO: Put away your phone so you DON'T have morning-after regrets plastered all over social media.  Ouch!   DON'T squeeze into group selfies, you will not be happy with the results.
#7 DON'T: Pre-drink –  wait until you get to the party to start to party.    DON'T: Overdrink.  Start with water and alternate every other drink.  And going out to bars "with the guys" afterwards is also not a great idea although it will seem brilliant at the time – trust me.
#8  Do avoid eating seafood hors d'oeuvres, nothing is worse than fish breath.  DON'T eat anything that needs two bites.  It is likely to end up on your dress.
#9  DON'T forget to thank the people who have organized the party, whether it is the head of the company, the head of your department or your co-worker.  DO: Send a hand written note.  Is still the best way to express your appreciation.
#10 DO:  Have a wonderful time and DO send us your own DOs and DONT'S!